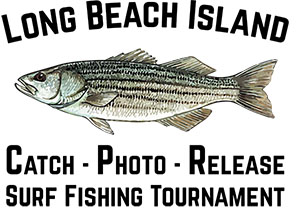 2016 Fall Classic Catch & Release Segment
DOWNLOAD THE TOURNAMENT TAG HERE

Click "Read More" to download. When printing make sure to uncheck the "fit to page" option. This way the tag will print out and fit in a zip lock bag.
Read More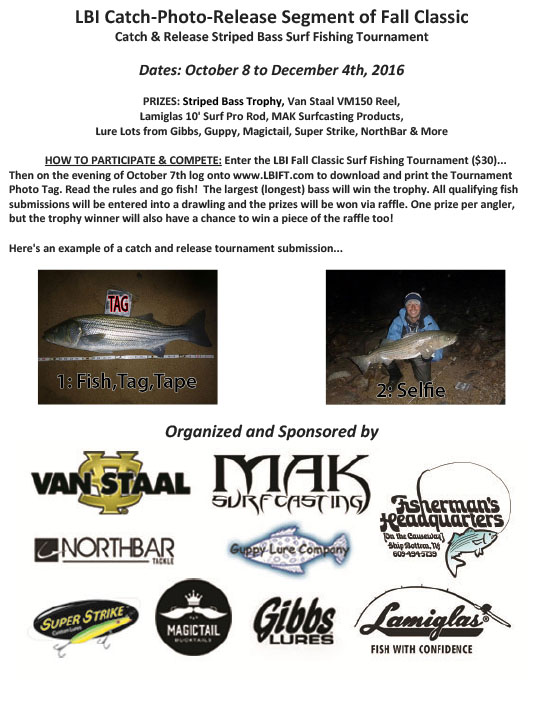 THE RULES
RULES: LBI CATCH PHOTO RELEASE SEGMENT OF FALL CLASSIC - OCTOBER 8th TO DECEMBER 4th
The LBI Catch Photo Release (CPR) segment is open to all Fall Classic Tournament (FC) registrants ($30 fee). FC and CPR runs concurrently, October 8th to December 4th. The CPR is based on photograph submissions. We impose the following rules in addition to all of the FC rules. Entrants are responsible for reading, understanding and adhering to all of the rules. Anyone who finds it too difficult MUST refrain from participating.


PRIZES/AWARDS: The largest length fish will win a trophy. All anglers who enter a fish will enter a raffle with awesome tackle prizes. One prize per angler.


ALL ANGLERS MUST HAVE:
All anglers must have a device that is capable of capturing a clear photo (phone, digital camera) in a fishing environment.
The ability to email your photos as well as download and print the black and white Tournament Tag (TAG).
A measuring device (RULER) that is legible in photos. We suggest using a folding stick ruler or a hard tape measure.


CONTEST TAG: A unique tournament TAG which promotes the sponsors and proves all fish were caught within event time frame will be issued on the evening of October 7th. Anglers must download it from www.LBIFT.com and print. The TAG requires hand writing the angler's unique four digit registration number. Write bold!


SCORING: The BEST (longest) fish wins! Decision is based on the total length of the fish which is determined by the judges after careful examination of all submissions. Length is a straight line distance from the tip of the snout with the mouth closed to the tip of the tail fin. Minimum Length is 32". The angler does not state or claim the size of the fish. In the event of a tie, the email submission sent first will take the win.


PHOTOGRAPHING: It is the responsibility of the angler to ensure fish are measured and photographed as per rules below. All fish must be specifically photographed TWICE and both photos must be submitted together! Fish size is determined solely by the LBICPR Judges based off of the photo submissions; therefore, THE PHOTOS ARE P A R A M O U N T !

One Photo of the FISH, TAG and RULER! All fish must be legibly photographed, flat, straight over the top (no distorting angle)! Fish should not be covered with sand. The full length of the effective ruler from " 0" " to the inch mark length of fish must be shown. On a 35" fish, it is ok to not show the 40" mark, but 0-35"+ must show. Any out of focus photos where the ruler is illegible will be disqualified. Photos with a distorted angle perspective will be disqualified. Photos with 3" or more of the ruler obscured will be disqualified. Any portion of the fish masked with sand (tip of tail) will not score.
We demand a Second Photo the Fish and Angler. A fishing buddy is best; however, it can be accomplished solo via selfie.

SUBMITTING/ENTERING : Photos must be submitted via email to LBICPR@GMAIL.COM before December 5th.
In the email's subject line please include your angler registration number and name.


SUGGESTIONS: Print a couple tags for back up, use a zip-lock bag to keep dry, put sand or coins in the bag to add weight and prevent loss in windy conditions. Anglers must take whatever means necessary to protect the TAG.


NOTICE: The LBICPR is designed to promote catch and release and friendly competition between anglers. Please have fun! Cheating will not be tolerated! Altering photos with graphics software like Photoshop is strictly prohibited. All fish must be caught on LBI. Judges have final say in all disputes. Photos submitted without TAG will not score. By participating in the contest and submitting an entry, the contestant releases the copyright to all of the submitted photos. The copyright release allowing the LBICPR tournament to use the photo for publicity purposes; web and print.
Any questions or concerns should be emailed promptly to LBICPR@GMAIL.COM Please include your name and phone number.
Congratulations Spring 2016 Anglers!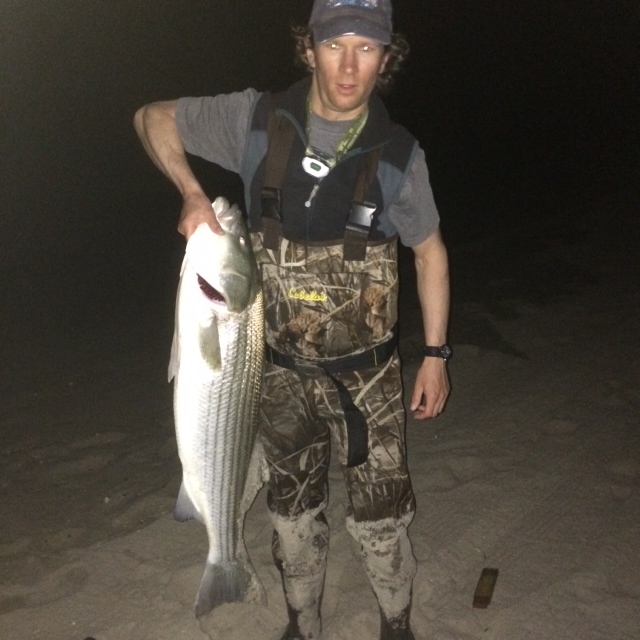 The 1st LBI CPR was a success in the spring of 2016! As part of Simply Bassing the first Long Beach Island Catch and Release Surf Fishing Tournament, the LBI Catch - Photo - Release had lots of attention! Thanks to all of the anglers who participated. We hope everyone had a great time.

The 2016 LBI Catch - Photo - Release Segment was won by Jason Hoch of Ship Bottom. He caught, photographed and released the largest fish in the segment. His "selfie" with the fish can be seen here on the right. That's Jason with is beautiful striped bass. His fish was a 40 incher, which got him the largest bass trophy.


With the generosity of the tournament sponsors, three prize packages were assembled. These were awarded at random to three anglers who entered fish into the tournament.


Package One was won by Jason Hoch. It contained a Van Staal VM150 fishing reel as well as an assorted lure collection.


Package Two was won by Paul Haertel. It contained a ODM 11' fishing rod as well as an assorted lure collection.


Package Three was won by John Parzych. It containing a $100 Fishermans Headquarters Gift Certifiacte as well as an assorted lure collection.
A big thanks to Van Staal Fishing Reels, ODM Fishing Rods, Fishermans Headquarters Tackle Store, Guppy Fishing Lures, Gibbs Fishing Lures, Super Strike Fishing Lures, MagicTail Bucktails and Northbar Tackle the makers of Northbar & Sportwood lures. Without all of their support none of this would have been possible!