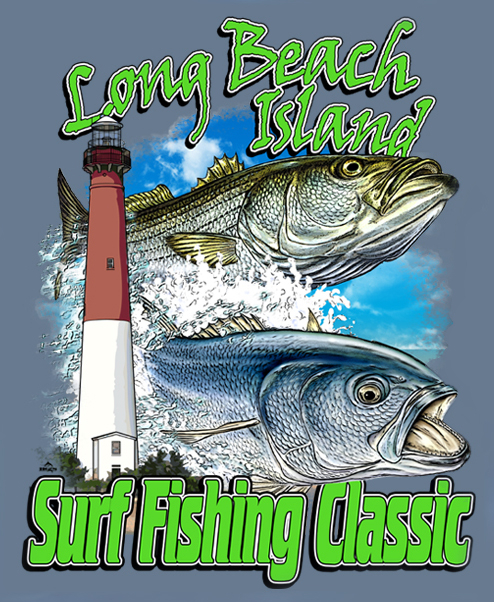 Register now for the 62st Annual Long Beach Island Surf Fishing Classic! The registration fee for the 8 week surf fishing tournament is $30 for adults and $15 for ages 17 and under. There is a limited number of collectable tournament hats and individually numbered pin so sign-up while supplies last!

For 2016, there are custom tournament t-shirts on sale at all of the particiating tackle shops. Sizes range from medium through triple extra large. All Sizes $20 Each Limited Supply

Anglers can register and weigh-in fish for the LBI Surf Fishing Classic at the bait and tackle shops listed below. Please check with the shops for their hours of operation.

*Registrations are not sold at the Chamber of Commerce



Particiating Tackle Shops

Captains Quarters
8201 Long Beach Boulevard
Brighton Beach NJ 08008
(609) 361-9800

Fisherman's Headquarters
280 W. 9th Street
Ship Bottom NJ 08008
(609) 494-5739

Jingle's Bait & Tackle
1214 Long Beach Boulevard
Beach Haven NJ 08008
(609) 492-2795

Surf City Bait & Tackle
317 Long Beach Boulevard
Surf City NJ 08008
(609) 494-2333

When weighing in a fish, please be prepared to show your Tournament Registration Form.